Our Pet Sitter Angels
Holly
Holly is working towards a degree for Zoology at NC State University and has had a lifelong passion for all animals, both caring for and studying them. She has rehabilitated birds of prey, worked as an avian vet tech, volunteered in numerous shelters with both cats and dogs, spent two years supervising a pet store, and studied veterinary medical technology. She is a dedicated student and aspires to obtain her Master's degree of Avian Science and her Ph.D of Animal Behavior. She has a wide range of pet care experience and currently has a quite a few animal children, including a sassy African Grey parrot and an awesome bearded dragon. Holly is available for service in Garner.
---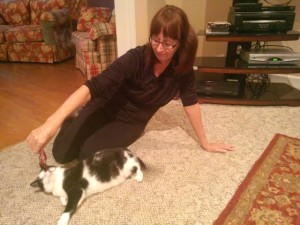 Katherine
Katherine has always had animals in her life and currently has 3 cats. Katherine is a Registered Nurse and now enjoys volunteering at animal shelter and that is where she adopted her last kitty.
Katherine's hobbies include tennis, jogging and being outdoors. She is also a Registered Nurse. Katherine treats other animals like they are her own. She is available to pet sit in Cary, Apex and Morrisville
---
Christie
Christie has been working with Ark Angels Pet Care since 2012. She grew up on a farm and has always had at least one four legged best friend. She considers it a privilege to care for your beloved pets and treats them with tender, loving care. Her hobbies are gardening, reading, and caring for your pets. She has a BS degree from Appalachian State University. Christie serves the North West Raleigh area and has earned the trust and respect of her clients very quickly!
---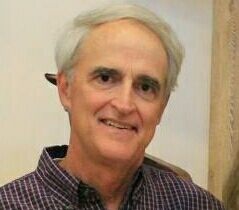 Howard
Howard is a life long resident of Raleigh and retired in 2012. He has always loved animals and has had the honor of sharing a special bond with a few of his own including horses. Howard has a special fondness for dogs and really enjoys walking them and caring for them. Howard is also a fitness nut and loves biking and exercising with the animals. Howard serves the North Raleigh area.
---
 Ann
Ann has been working part time with Ark Angels Pet Care since May of 2010.
She grew up with dogs but since college has rescued several cats and has
adopted a few. She loves working with both dogs and cats equally. Ann
currently serves the 5 points, Downtown Raleigh and North Hills areas.
---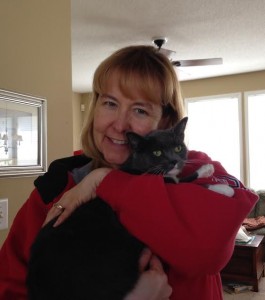 Rhonda
Rhonda has always loved animals. Her family always had pets when she was growing up including fish, frogs, mice, hamsters, birds, dogs, cats, and guinea pigs. Rhonda's current family includes her husband Kevin (also a pet sitter), 2 home schooled teenage boys, Mia (a pug puppy), Pepper (a border collie mix), Diego (a maine coon cat), Bizzy (a tuxedo cat), Molly (a cockatiel), and Daisy & Peach (2 guinea pigs).
She loves walking, playing, and snuggling with dogs and cats. Rhonda is a former preschool teacher with a degree in math education from James Madison University in Virginia. She treasures the time that she gets to spend with her pet sitting families in the Apex and Cary area.
---
 Jennifer
I'm Jennifer and this is my Gracie. I've been working with AAPC for 7 years. I love taking care of your babies as if they were my own! This job allows me to enjoy pets as if they were mine BUT give them back to you when you return home. I provide pet care in the North east Raleigh area.
---
 Caroline
Hi my name is Caroline and I started working for Ark Angels in December. I really enjoy caring and getting to know your pets and providing special attention to them while you are away. I am very appreciative of the chance to work at Ark Angels and for the trust and relationships formed with both pets and their owners.
I enjoy running, yoga, checking out flea markets and spending lots of family time with my awesome husband, children and pets. We have two dogs, Lightning and McQueen, and two parakeets Doc and Mater. I cover the West Raleigh area and can't wait to meet and care for your pets!
---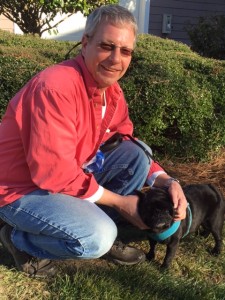 Chris
Chris has just joined Ark Angels Pet Care after thirty years as a commercial landscape contractor.
He's an admitted dog fanatic and has had at least one four legged friend he was four years old. A few of his beloved dogs have been mixed breeds, three awesome Golden Retrievers and a Corgi with a giant sense of humor!
Chris has completed a pet first aid course with Pet Tech and is thrilled to begin his "retirement" career with Ark Angels Pet Care.
He can't think of anything more rewarding!!!
---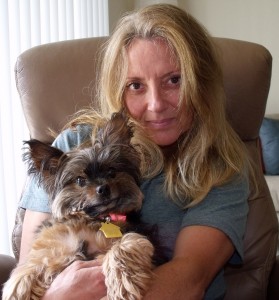 Michelle M.
Hi. My name is Michele and this is my little buddy Rowdy. I started at Ark Angels in March of 2016. What a great team to work for and to know that I'm working with people who love animals as much as I do.  We all know how important it is to find someone who's trustworthy and will love your pets as if they were our own while you're away.
I have been enjoying the love from my pets and loving them since I was 5 yrs old or what I can remember. It all started with guppies in my mother's tupperware bowls. Then the fish tanks were getting bigger and bigger. I used to buy the sick fish from the pet store and take them home and medicate them back to health. Then came the parakeet, the finches and a cockatiel.  We also had many cats, two ferrets, a rabbit, and lots of pups that lived on my Aunt's farm.
I am looking forward to helping our clients who need Angels to watch over their beloved pets!
Michelle serves the Brier Creek and Northwest Raleigh area.
---
Michelle S.
My name is Michelle. I'm originally from Minnesota and I graduated from UW-Madison (Go Badgers!!). My family has lived in Wisconsin, Boston, Tampa and, for the last 6 years Cary. Everywhere we've lived, my family has included animals. Currently we have 2 cats (Yum-Yum and Bear), Helga the St. Bernard lap dog, Hogan a Great Pyrenees 120-pound puppy, Tully a mighty Coton de Tulear, Bruce the Beta fish and Tequila the bearded dragon.
I believe you can never get enough furry love in your life so my son, daughter and I all volunteer at Second Chance Pet adoptions. When I'm not covered in fur, I enjoy traveling with my husband, family board game nights, Pilates and working as an election official for the Wake County Board of Elections.
I deeply appreciate how special and important your fur (and furless) family members are to you and am honored to give them all the love, care and attention they deserve as your pet sitter.
---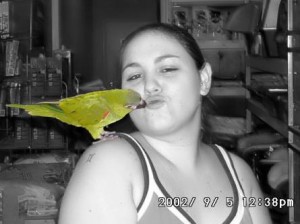 Marissa
Marissa started working with Ark Angels Pet Care in 2004. Marissa is a wizard with all kinds of animals and has successfully trained birds,dogs,cats,and rats ! She loves exotic pets and obviously has many years of experience working with them. But Marissa's biggest love is dogs ! She has rescued more than a hundred pit bull breeds and worked tirelessly in her off time to find loving homes for them. Marissa covers parts of north east Raleigh and works full time at a local boarding kennel. Marissa is surely a great Pet Ambassador !
---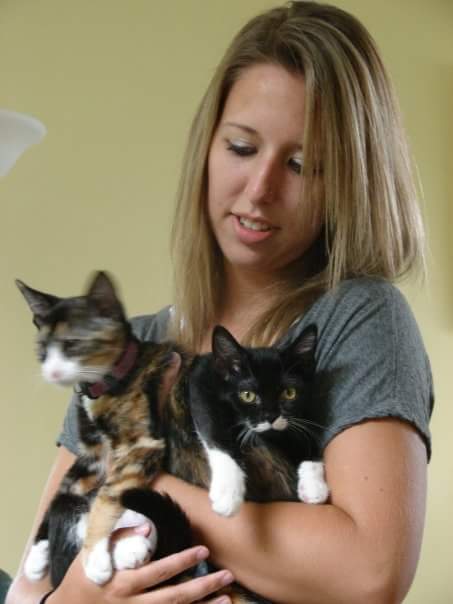 Melanie
My name is Melanie, and I'm very excited to be working with Ark Angels Pet Care! Animals are my life and my passion… I've been volunteering with various rescue organizations since I was 7 years old, and I've worked with almost any animal you can think of! I graduated from NC State in 2012 with degrees in Zoology and Psychology so that I could persue a career with animals. I've worked with domestic pets including dogs, cats, rabbits, birds and more to more exotic tigers, elephants and lemurs, in everything from rescues, rehabilitation centers, sanctuaries and zoos. I currently have 3 cats of my own: Lilly, Swashbuckler, and Naboo. I look forward to meeting you and your furry, feathered and scaly family members! I'll be providing care to our clients in West Raleigh and Cary.
---
George
Hi! My name is George and I joined the team with Ark Angels Pet Care this year. I'm originally from Pennsylvania and returned to Raleigh, NC a couple of years ago to be close to my family and intend to stay in this lovely state. I have degrees in Psychology and worked in a few different fields most recently for a hospital system in Pennsylvania. I have done volunteer work for two local hospitals here as well.
I have had dogs of varying sizes in my life and with me now is Annabelle an 8 year old 8 pound Chihuahua who is my sidekick. I care about the welfare of all animals and get much satisfaction and enjoyment caring for clients' pets as I would care for my own. In April 2017 I completed a Professional Pet Care Provider First Aid and CPR Workshop which provided very useful information.
I'm semi-retired and working for Ark Angels Pet Care has been rewarding. I look forward to being your pet sitter.
---
Hannah
Hi, I'm Hannah. I moved from the UK over 7 years ago and my pet family started to grow from there. We have 3 dogs and 2 cats (who think they're dogs) and I adore them! I love taking care of other people's cats and dogs and treat them as my own so I look forward to meeting your fur family. 
---
Amanda
Amanda was born and raised in Raleigh and now lives in the Garner area with two boys. She is a social worker with adult guardianship and has had pets since she was a young child. She currently has a dog that she and her boys rescued 9 years ago, Heidi. She is also an avid tennis player and fan. Amanda is available for pet sitting in the Garner area. 
---
Alejandra
Among the things in life I thank God the most, is the love he gave me for animals. I was born and raised in Venezuela with a wonderful family who taught me to respect all creatures. I deeply believe that animals deserve respect and kindness and it shows in every aspect of the work I do. That same love, respect and kindness, I have taught to my only son. 24 years ago, we adopted this beautiful country as our own and during all those years I had the wonderful opportunity to have and to take care of dogs and cats. During the weekdays, I work as a freelance Medical Interpreter in the Durham area assisting spanish speaking families and making a difference in our community. When I'm not working I'm being bossed around by my two cats Sara and Nuki. I am very excited to be a member of the Ark Angels Pet Care team and for the opportunity to meet you and your pets . Alejandra serves the Southeast Raleigh, Garner and East Cary areas. 
---
Brittany
I am so excited to be working with Ark Angels and taking care of your sweet pets. I have been working with animals all of my life. I started working with domestic animals doing various pet sitting jobs in high school and continued through college. In college, I also started volunteering with exotic animals and doing several internships where I worked with large and small carnivores, bears, monkeys, macaws, lemurs and a variety of hoof stock. I currently work full time at the Duke Lemur Center taking care of the lemurs there! As far as my own animals go, I have owned a variety of pets from dogs, cats, guinea pigs, a hedgehog, a rabbit, a snake, fish and frogs. Currently, my husband and I have a one year old Anatolian Sheppard/Poodle/Heeler mix. I very much look forward to meeting you and your most cherished pets. Brittany will be serving the Brier Creek and North Raleigh area.
---
Lynn
Ever since I was a little girl, I have had a love and appreciation for our furry counterparts. I always have pets as part of my family, whether as an older rescue or getting as kittens or puppies. I presently have two fun loving companions. Roxie, Miniature Pinscher mix, age 6 and Count Dinker Von Hoffman, Dachshund, age 9 (Even though he knows he is royalty, we call him Dinker for short).
I am experienced and Comfortable with All Breeds, Ages, and Sizes of dogs and appreciate the unique Personalities of each dog and cat. I worked as a Dog Trainer for Pet Smart for five years and volunteer for SPCA of Wake County. I have always been in a service type career, so I understand the importance of meeting the needs of others whether 2 or 4 legged. Our pets are a treasure and I will care for your family pet with the same compassion, dependability, and commitment as I would my own. Lynn serves the North west Raleigh area.
---
Sue
I am a retired social worker, who has had various animals all of my life. I moved here from Florida to be closer to my children and grandchildren. At present, I have a wonderful 10 yr old lab, and have adopted an abandoned black cat. I have always loved and respected all living creatures, and consider it a privilege to care for peoples' treasured pets. Sue is available for our clients in the Cary area.